October 18 history blog post: One of a series of short essays to provide the cultural, political and geographical context for the 1766 travelers.
This history blog would not have been possible without Adelaide Fries.
Adelaide Lisetta Fries (1871-1949), a great-great-granddaughter of Salome Meurer and a direct descendant Count Zinzendorf and four Moravian bishops, was born in 1871 in Salem. She graduated from Salem Academy in 1888, then received her B.A. in 1890 and her master's in 1916, both from Salem College. She served as Salem College Alumnae Association president for 29 years (1905-1934). This year marks the 150th anniversary of her birth.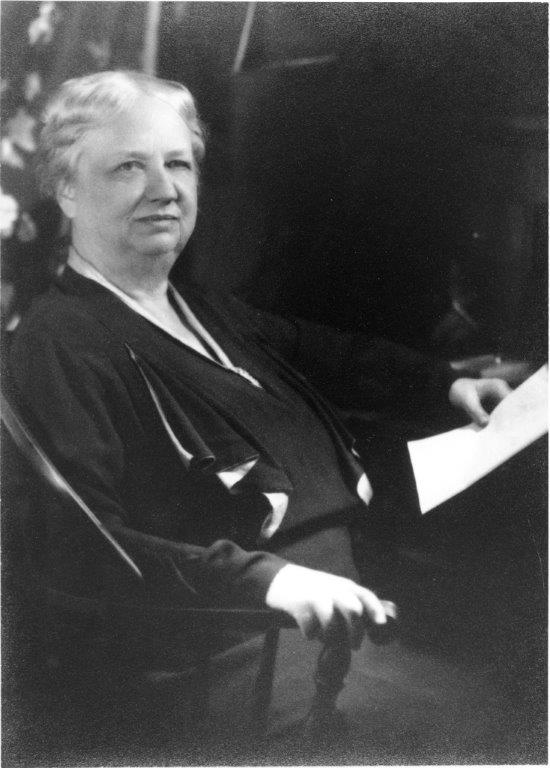 Her interest in historical research began early in her life. She learned old German script and studied original manuscripts in the Moravian Archives in Herrnhut, Germany. She began collecting old documents that were scattered throughout the Southern Province of the Moravian Church, eventually gathering so much that an archive was established in 1942 at the corner of South Main and Bank streets.
She was officially appointed archivist for the Moravian Archives in 1911, and she spent the rest of her life assisting scholars, helping families do genealogical research, writing, editing and giving presentations.
Her monumental work, The Records of the Moravians in North Carolina (1922-1947), was still in progress when she died. She had completed seven volumes and was working on the eighth. She selected all the material to be included and translated it from Old German script. Another of her books, Forsyth, A County on the March, received a silver cup as the best county history written in 1949. Her historical novel, The Road to Salem, received the Mayflower Cup in 1944, awarded annually to the North Carolinian judged to have written the best book during the year.
Other works by Adelaide Fries include: The Moravians in Georgia, 1735-1740; The Moravian Church, Yesterday and Today; and Customs and Practices of the Moravian Church
She was awarded honorary degrees by Moravian College (now Moravian University), Wake Forest College (now Wake Forest University) and The University of North Carolina at Chapel Hill.
Adelaide Fries is buried in God's Acre (Square 02A Row 2 Grave 2).
Virginia S. Hart A'75
Resources:
NCPedia: Adelaide Fries
Digital Forsyth: Adelaide Fries
Adelaide Fries' memoir, courtesy of The Moravian Archives, Winston-Salem
"History Makers: Adelaide Lisetta Fries," Winston-Salem Journal