October 24 history blog post: One of a series of short essays to provide the cultural, political and geographical context for the 1766 travelers.
In 1753, fifteen Single Brethren traveled from Bethlehem to Bethabara via the Great Wagon Road through the Shenandoah Valley. Eleven stayed to establish the first Moravian settlement in the 100,000 acre tract of Wachovia (modern-day Forsyth County, NC). Four of the brethren returned to Bethlehem to teach others the route and to serve as messengers between the communities.
Bethabara, meaning "House of Passage," was intended as a temporary community in preparation for developing the town of Salem, which would serve as a center of trade. Whereas earlier Moravian communities had been founded for missionary work (specifically, the failed attempt in Georgia and Bethlehem in Pennsylvania), Bethabara was an economic venture that would provide support for missionary work.
Bethabara quickly became a commercial center, attracting customers from a 60-mile radius. By 1759, businesses in town included a tavern, apothecary, cobbler, miller, cooper, tailor, tannery, blacksmith, distiller, pottery, bakery and gunsmith.
The fur trade proved to be a lucrative operation for Bethabara. The Moravians sent deerskins to the Port of Charleston for the Trans-Atlantic market starting in 1756, and Bethabara eventually accounted for a significant portion of Charleston's deerskin export to England.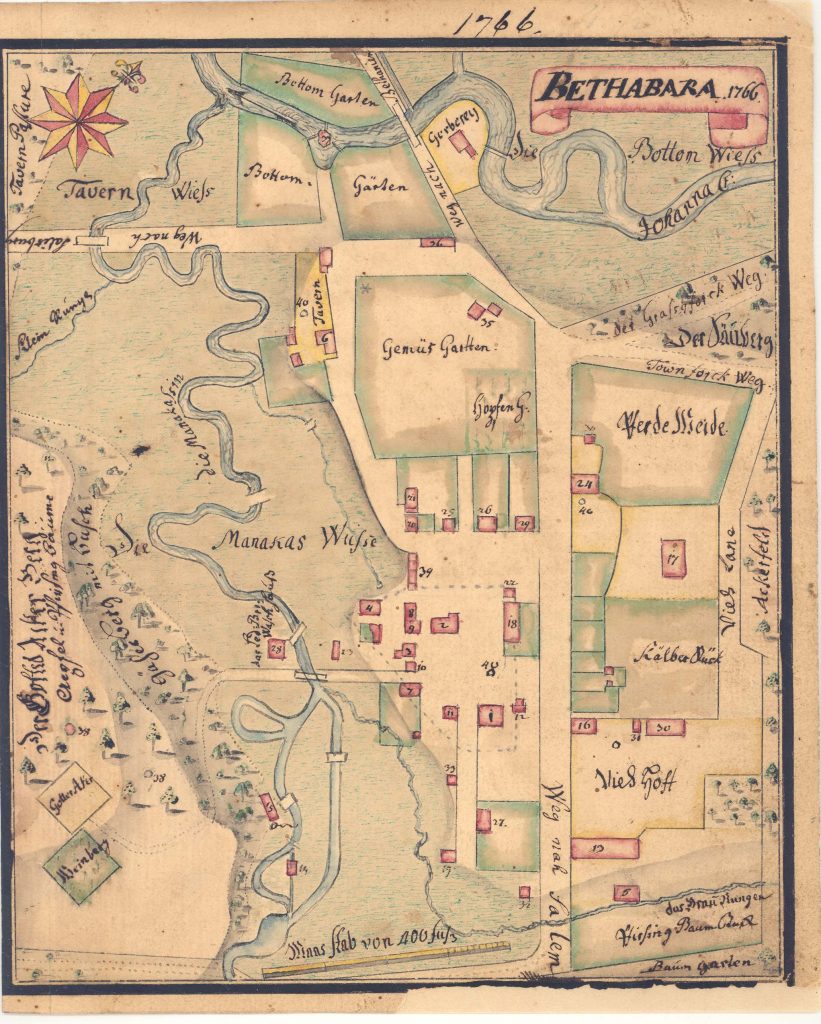 The year 1766 was momentous for Bethabara. Not only did they begin construction of the town of Salem, but they also welcomed three groups of new residents: one directly from Europe (one married couple and eight Single Brethren), and two groups from Bethlehem in October. The first consisted of two married couples, five Single Brethren, one widower and eight Older Boys, and the second consisting of a married couple, a married Sister, 12 Older Girls and four Single Sisters.
By the end of 1766, Bethabara had 130 residents: 18 married couples, 3 widowers, 4 widows, 3 Single Sisters, 12 Older Girls, 5 Little Girls, 36 Single Brethren, 20 Older Boys, and 11 Little Boys.
The Bethabara Diary for October 30, 1766:
Sr. Schropp and Br. and Sr. Utley arrived, and were followed Oct. 31st by the rest of the company, which was welcomed with the trumpets, and with coffee served in the Saal. The company consisted of twelve Older Girls, and four Single Sisters, of whom Sr. Anna Maria Kraus is Pflegerin and Vorstheherin, and Catherine Beroth her assistant. They have walked most of the way from Bethlehem. They were lodged in the Gemein Haus in the two rooms opposite the Saal, and rejoiced greatly over their nice living and sleeping rooms, having expected only uncomfortable quarters.
By 1772, only 50 residents remained in Bethabara, as most of the tradesmen, their families, and the Single Brothers and Single Sisters had moved to Salem.
Virginia S. Hart A'75

Resources:
"Bethabara, Bethania and Salem," Historic Bethabara Park
"A Center of Commerce and Trade," Historic Bethabara Park

Adelaide Fries, ed., Records of the Moravians in North Carolina Volume I, 1752-1771