September 27 history blog post: One of a series of short essays to provide the cultural, political and geographical context for the 1766 travelers.
The Moravians first came to America in the 1730s as missionaries. Their 1735 attempt to establish a community in Savannah, Georgia, was unsuccessful, so they set their sights on Pennsylvania.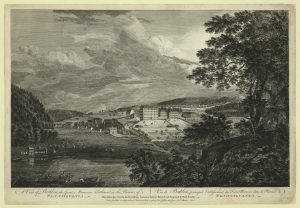 The Moravians purchased 500 acres in Pennsylvania in 1741 and named the tract Bethlehem on Christmas Eve of that same year. The land is situated where the Monocacy Creek meets the Lehigh River, providing the fledgling community with plenty of water and helping to establish Bethlehem as a trading center for the region.
One of the first buildings constructed was the Gemeinhaus in 1741, a National Historic Landmark. The members of the 1766 party would have worshipped and met in the Gemeinhaus, and they would have been familiar with other buildings still in existence: 1744-1772 Bell House / Sisters' House Complex, 1748 Single Brethren's House, 1751 Old Chapel, 1758 Sun Inn, 1761 Tannery, and the 1762 Waterworks, America's first pumped municipal water system, also a National Historic Landmark.
The Moravians subsequently purchased 5000 more acres which included the town of Nazareth, so the two towns were closely linked in the development of the region. They also had open congregations in Philadelphia and Oley.
Virginia S. Hart A'75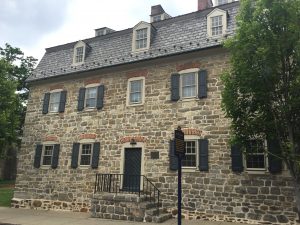 Resources:
Bethlehem Colonial History
https://bethlehempa.org/about-bethlehem/history-of-bethlehem/
A Brief History of the Moravian Church
https://www.moravian.org/2018/07/a-brief-history-of-the-moravian-church/
Bethlehem, Pennsylvania: A Moravian Settlement in Colonial America
https://www.nps.gov/articles/000/upload/TwHP-Lessons_59bethlehem.pdf
Aaron Spencer Fogleman, Hopeful Journeys: German Immigration, Settlement, and Political Culture in Colonial America, 1717-1775