October 16 history blog post: One of a series of short essays to provide the cultural, political and geographical context for the 1766 travelers.
Colonial courts were responsible for much more than deciding local cases. They had many administrative duties, including making tax assessments. They could also shape the life of the entire community and the routes of travelers. When a county was formed, a determination was made as to where the county court house would be situated, and towns generally grew up around court houses since all the people of the county would have business at the courthouse. Likewise, travel to the court house had to be facilitated, so roads were built with that destination in mind.
When examining Peter Jefferson's 1755 map of Virginia, one is struck by the details that are emphasized: rivers and streams, fords and bridges, taverns, and courthouses. In other words, these are the most important elements a traveler would need to consider.
In the 1754 diary from Bethabara, it was noted that travelers would stop at Bethabara on their way to and from the courthouse in Salisbury, and in 1755 two Brethren went to secure a license for a tavern. For October 23, 1762, the entry reads: "Gammern and Fockel returned from Court, where they paid our taxes, secured a license for the tavern, and gave in the taxables for Br. Loesch. It is always unpleasant for the Brethren to have business at Court, because the conduct there is so ungodly."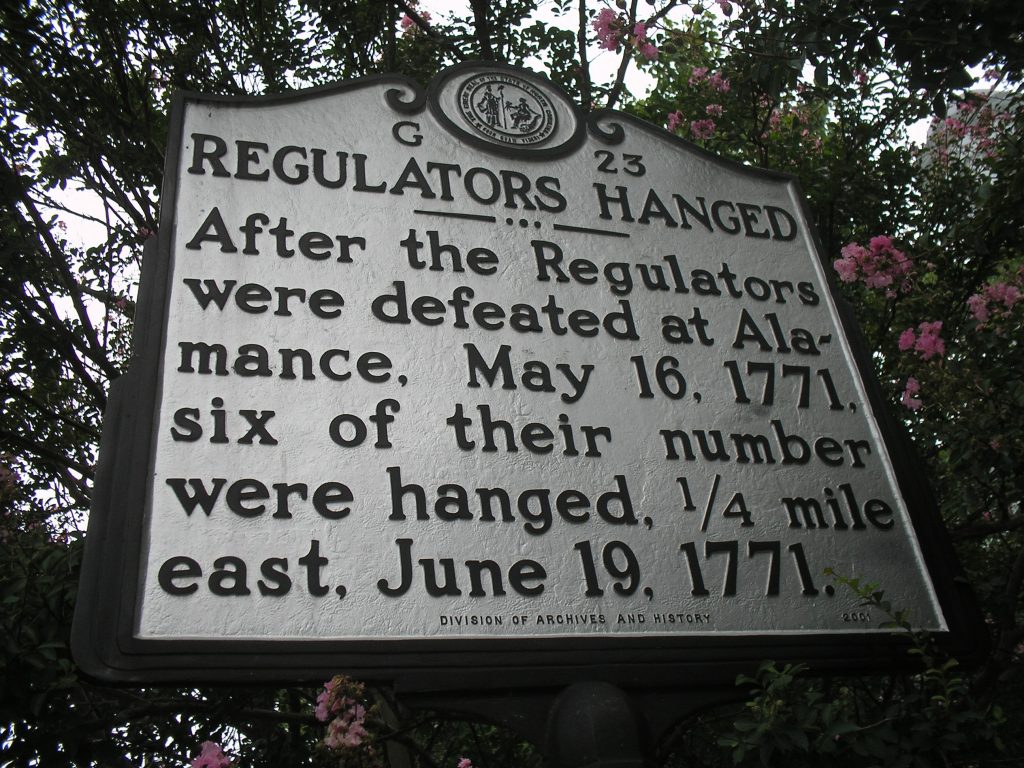 The Moravians' distaste for the conduct at court may provide some insight into the trouble that was already brewing and would lead to the Regulator movement (1764-1771). North Carolina was governed by a Royal Governor, and the seat of power was in Eastern North Carolina. West of Hillsborough was considered "backcountry," and administrative and judicial appointees of the Royal Governor were loosely supervised. Western North Carolina residents were resentful of the dishonest officials and exorbitant fees they charged. The Regulators stopped paying fees and taxes in protest, and their grievances ended up causing a riot in Hillsborough in September 1770. The rioters attacked the court, chasing lawyers and judges through the streets. William Tryon, the royal governor, raised a militia and confronted the Regulators at the Battle of Alamance on May 16, 1771. Twelve Regulators were tried in Hillsborough and convicted of treason. Six were hanged.
Virginia S. Hart A'75
Resources:
John P. Frank, "Historical Bases of the Federal Judicial System"

"A map of the most inhabited part of Virginia containing the whole province of Maryland with part of Pensilvania, New Jersey and North Carolina"

"Regulators of North Carolina"
Randell Jones, "A Better Regulation"