October 3 history blog post: One of a series of short essays to provide the cultural, political and geographical context for the 1766 travelers.
In October 1753, 15 men set out from Bethlehem, Pennsylvania, to settle Bethabara, North Carolina. Four members of the original traveling party returned to Bethlehem that December to serve as guides to future travelers and to serve as regular messengers between the two communities. Since Bethabara was supposed to generate income for the Moravians, and since Bethlehem served as the administrative center for the Moravian Church in America, it was important to stay in close contact.
As early as Easter of 1754, the first letters were brought to Bethabara by Johannes Lischer and Jacob Friis. Between Easter and the end of the year, there were at least six trips: three from Bethabara to Bethlehem, and three from Bethlehem to Bethabara, one of which included eight new settlers.
By November 1755, the first married couples arrived, and by the end of 1756, the population of Bethabara had reached 65: 18 married couples, 44 Single Brethren, one boy and two infants.
At the end of 1766, the year our party arrived, Bethabara had a population of 88: 18 married couples, three widowers, four widows, three Single Sisters, 12 Older Girls, five Little Girls, 36 Single Brethren, 20 Older Boys and 11 Little Boys. All the while, messengers were going back and forth.
Travel in 18th century America was challenging, especially for large parties. A single man on horseback could travel much more easily than a party with 19 members, nine horses and a wagon.
A handwritten description of the route from Bethlehem to Bethabara, circa 1760, shows that, for much of the route, the stops, or landmarks, along the way were not towns, but individuals. It can be surmised that this route guidance was for the messengers going back and forth, since they could easily be accommodated in a barn for one evening, and a farmer would be better able and more willing to provide a meal for a solo traveler than a large party.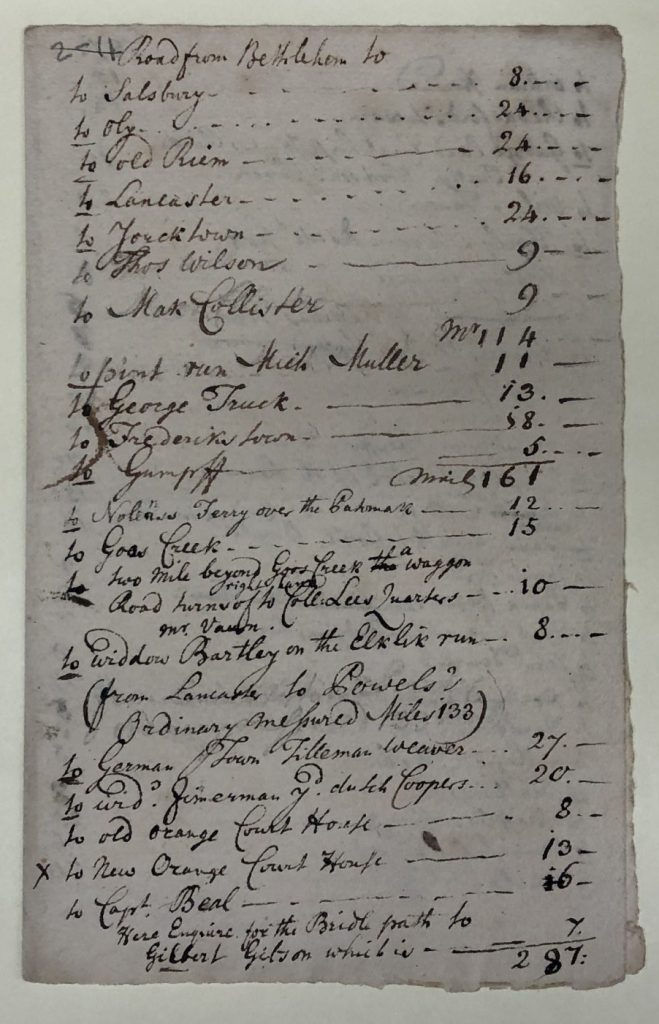 Virginia S. Hart A'75
Resources:

Adelaide Fries, editor, Records of the Moravians in North Carolina. Volume I: 1752-1771