October 20 history blog post: One of a series of short essays to provide the cultural, political and geographical context for the 1766 travelers.
From Salome Meurer's 1766 Journal:
October 28th. We began our journey again at 5 o'clock. At 10 o'clock we went through Corbintown and began buying all kinds of things.
Corbintown (now Hillsborough) is the first town named by Salome since she mentioned passing through Leesburg, Virginia, 17 days earlier. There was relief in finally being in North Carolina and nearing their ultimate destination.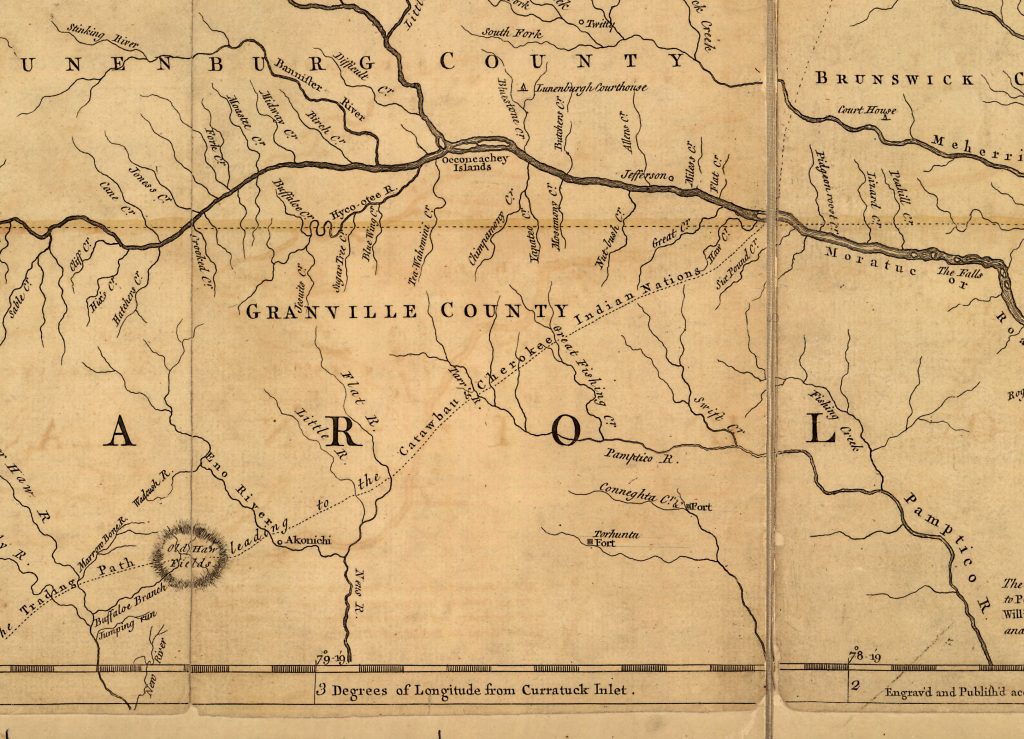 Hillsborough was founded in 1754 on the banks of the Eno River at the site of a native American village inhabited by the Occaneechi tribe, near the Great Indian Trading Path. It is referred to as Akonichi on Peter Jefferson's 1755 map. Originally named Orange by the colonists, the town was renamed Corbintown (or Corbinton) in honor of Francis Corbin, who served as the proprietary agent for Earl Granville, the Lord Proprietor of North Carolina. In 1766, the town was renamed again as Hillsboro, in honor of Wills Hill, earl of Hillsborough, who served as secretary of state for the colonies. In 1965 it was renamed Hillsborough.
Hillsborough was a political center for much of the colonial period, and it served as the state capital briefly during the American Revolution. In 1768-1771, Hillsborough became the focal point for protests and violence by the Regulators, colonial settlers who were against the corrupt royalist officials. In 1788 the first state convention to ratify the U.S. Constitution was held in Hillsborough, but the vote failed. The ratification occurred one year later in Fayetteville.
Virginia S. Hart A'75
Resources:
"About Hillsborough," https://visithillsboroughnc.com/about/
"Hillsborough, North Carolina," https://www.britannica.com/place/Hillsborough-North-Carolina
"Corbin, Francis," https://www.ncpedia.org/biography/corbin-francis
"A map of the most inhabited part of Virginia containing the whole province of Maryland with part of Pensilvania, New Jersey and North Carolina"