September 30 history blog post: One of a series of short essays to provide the cultural, political and geographical context for the 1766 travelers.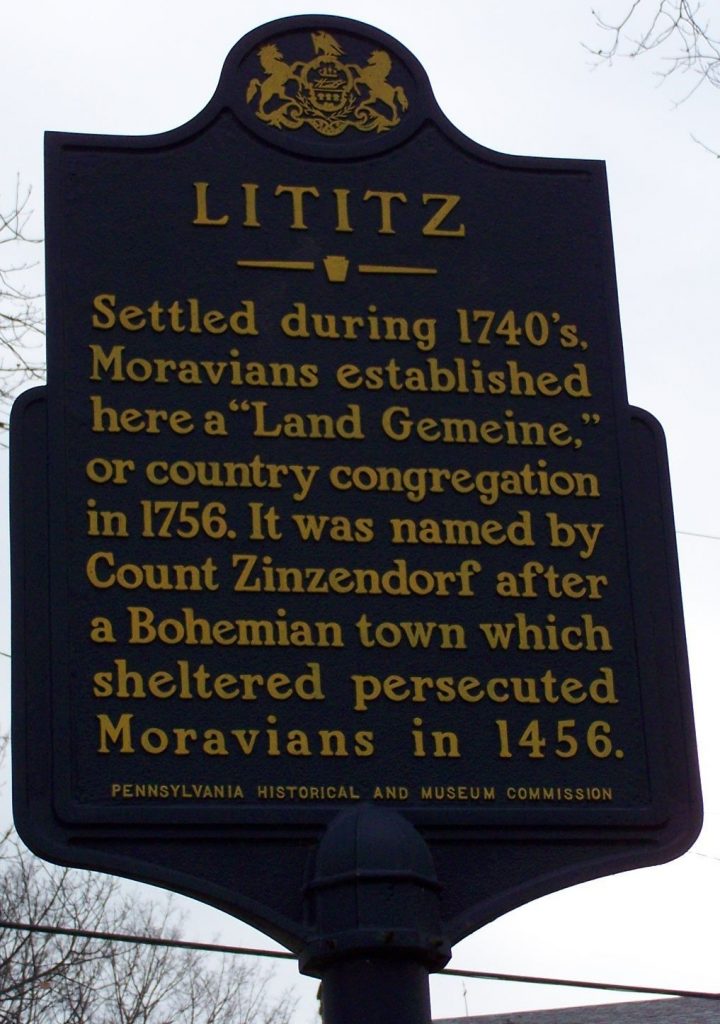 Lititz traces its founding to a 1742 visit by Count Nicholas Ludwig von Zinzendorf of Saxony, Germany, the leader and organizer of the modern day Moravian Church. Zinzendorf preached at a tavern near modern-day Lititz while searching for a tract of land to establish a third Moravian community in Pennsylvania. (Bethlehem and Nazareth had been established earlier.) A log church was constructed in 1744 on land owned by John George Klein, who later provided a tract of 491 acres to the Moravian Church. The tract included the log church (St. James) and the Warwick Gemeinhaus (erected 1746).
In 1756 Klein constructed a Pilgerhaus (House of Pilgrims), a two-story stone structure for the settlement. That same year, Count Zinzendorf wrote to the Moravian Brethren that the settlement should be called Litiz, commemorating a gothic castle in Bohemia (Czech Republic) where early Moravians found refuge in 1456. The German spelling was changed to Lititz by the Postmaster General in 1880.
Lititz is the home of Linden Hall, a girls boarding school founded by the Moravians in 1746. The Lititz Museum is housed in the 1793 Christian Schropp home, and the adjacent Johannes Mueller home (1792) includes artifacts from the late 1700s and early 1800s. The Lititz Historical District includes several structures that the 1766 travelers may have visited, including the Warden's House (c. 1757), Sisters' House (1758), Brothers' House (1759), and General Sutter Inn (originally the Zum Anker, established 1764).The Moravian Church Cemetery was established 1758.
Virginia S. Hart A'75
Resources:
"The History of Lititz"
"The Establishment of Lititz"
"Lititz Moravian Historical District"