October 25 history blog post: One of a series of short essays to provide the cultural, political and geographical context for the 1766 travelers.
The town of Salem had been planned since the first tract of 100,000 acres in North Carolina was purchased in 1752. Although Bethabara was the first Moravian settlement in the Wachovia tract, its very name, which means "house of passage," was an indication that a larger, permanent community would be established. Count Zinzendorf selected the name Salem, which means "peace."
In 1763, the Herrnhut Board selected Brother Frederick William Marshall, who was in Pennsylvania, as the business and financial director for Wachovia. He was further instructed to select a suitable site for the town of Salem. Marshall traveled to Wachovia in 1764 and spent several months searching for the best site. Eventually he selected a site in the center of the Wachovia tract, about six miles from Bethabara. The selected site was on a hill and included many springs, but it was well above der Wach (Salem Creek), so it was protected from flooding.
The original plan for Salem called for a central square with streets radiating away from it like spokes on a wheel. The Brethren quickly determined that the terrain was better suited to a grid plan, with the main street passing the square, where the prominent structures would be placed. Other structures, including homes and artisan's shops, would be on adjoining streets.
On January 6, 1766, the first trees were cut down for construction of the first house. By February 19, eight brethren had moved from Bethabara to Salem. In July, a well-master with a divining rod sounded for water at all four corners of the square, and a well was dug and a pump installed, with the work completed in September. In August the first group of women visited Salem, and a lovefeast was held in one of the houses.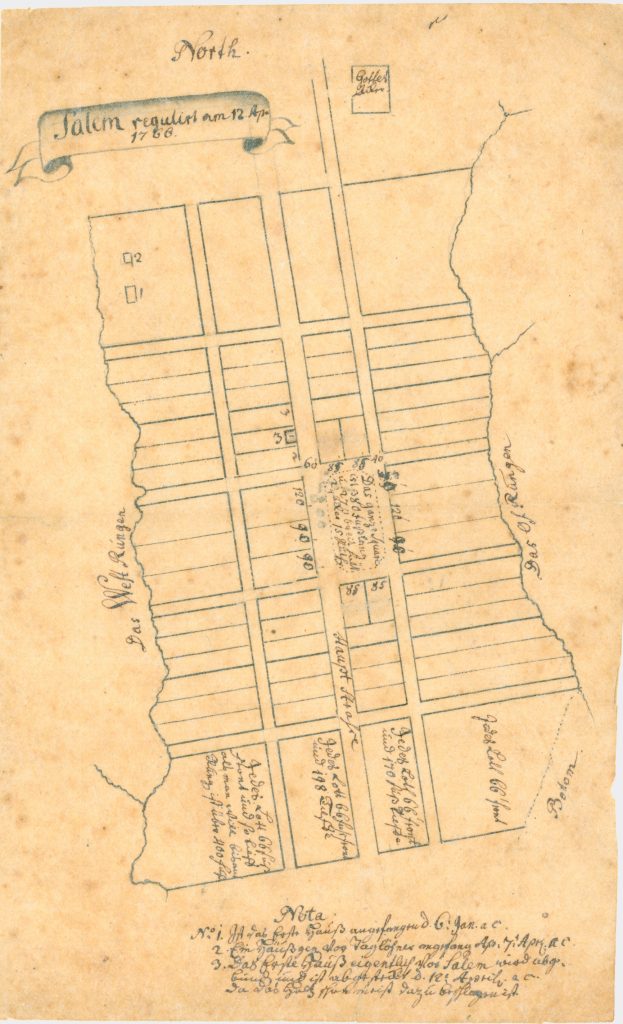 By 1768, they had laid the foundation for the Single Brothers House and completed houses and workshops for the potter and blacksmith. The Single Brothers House was completed in 1769. The Gemein Haus was completed in 1770, and it included living quarters for the minister and his family, as well as the Single Sisters. By the end of 1770, the Salem congregation had 37 members.
The first Easter service held in Salem was in 1771, and the first burial in God's Acre was in June of the same year.
By 1772, Salem had 60 residents and had become the administrative center for the Southern Province of the Moravian Church. Salem eventually became a trade center for the area, and Bethabara, the original settlement, became a farming community.
Virginia S. Hart A'75
Resources:
C. Daniel Crews and Richard W. Starbuck, With Courage for the Future: The Story of the Moravian Church, Southern Province
Adelaide Fries, Forsyth: The History of a County on the March
Adelaide Fries, ed., Records of the Moravians in North Carolina Volume I, 1752-1771